Lawyer Raymundo Larraín looks at Granada's attractions as a place to live, visit, and invest.
I continue today with my running series on top places to buy and live in Spain. You can find older entries on this series scrolling down below. These impromptu light-hearted guides are not meant to be exhaustive; they are just there as a lighthouse to shed light on an area's main highlights and landmarks.
Inset photo: the always majestic La Alhambra.
"These are the keys to paradise." – Abu Abdallah Muhammad XII (Bobdil), the last Emir of Granada. Painter: Francisco Pradilla y Ortiz.
The painting depicts the moment Boabdil relinquishes the keys to the Emirate of Granada, the last Moorish stronghold in Spain, to King Ferdinand and Queen Isabella. The fall of Granada mirrors in reverse the fall of Constantinople in 1453, which led to the fall of the Eastern Roman Empire.
Introduction
1492 marks the fall of Granada, the last Islamic Kingdom to rule Spain (Al-Andalus) after almost eight centuries of uninterrupted dominion at the heart of Western Europe. The reconquest of the city signified the long-awaited reunification of Spain, the birth of a new nation, under the vigilant stare of the Catholic Kings. This epic moment galvanized the country, sending shockwaves throughout the land, which rallied behind its kings, as one. This historic milestone marked the start of a golden age for Spain which would last well over 250 years. During that time, Spain would go on to forge a mighty overseas empire that sprawled the world, from West to East, becoming history's first modern-era superpower.
That same year also witnessed the discovery of a New World by Christopher Columbus, also at the behest of the Catholic Kings. Grizzled war veterans, from all corners of the country, after having spent all their adult lives waging a relentless war in pursuit of freedom, spurred on by the electrifying emotions of a reunified nation at long last, saw in the exploration of a new world a golden opportunity to carry over their skill set as Spanish Conquistadors – but that's a tale for another day.
Centuries on, as a living testament to all the brave men and women who gave up their lives exploring and colonising unchartered lands, the Spanish language is now spoken by over half a billion people, in 22 countries, and is ranked as the world's second-most important language.
Granada has gone on to symbolize the unity of Spain.
Catholic King's tomb in la Capilla Real, Granada. For those eagle-eyed readers, you'll spot on the right side that Isabella's head seems to sink into her pillow more than Fernando's. This was a gentle nod from the Italian sculptor to denote she was (much) smarter than him, and so her head weighed more. Clearly, we can surmise who was really in charge!
Granada, culture capital

Unlike its glitzier neighbours up and down the coast, devoted to beach & sunshine tourism, Granada appeals more to a refined crowd with cultural cravings and prone to introspection. Granada, like Oxford, is one of those few cities where everything seems to revolve around its university and academic life in general. Granada is ranked as one of the top universities in Spain to read Law, amongst many other degrees. The city is swarmed with university students at all times, which has created a vibrant cultural (night) life which reflects upon every little detail.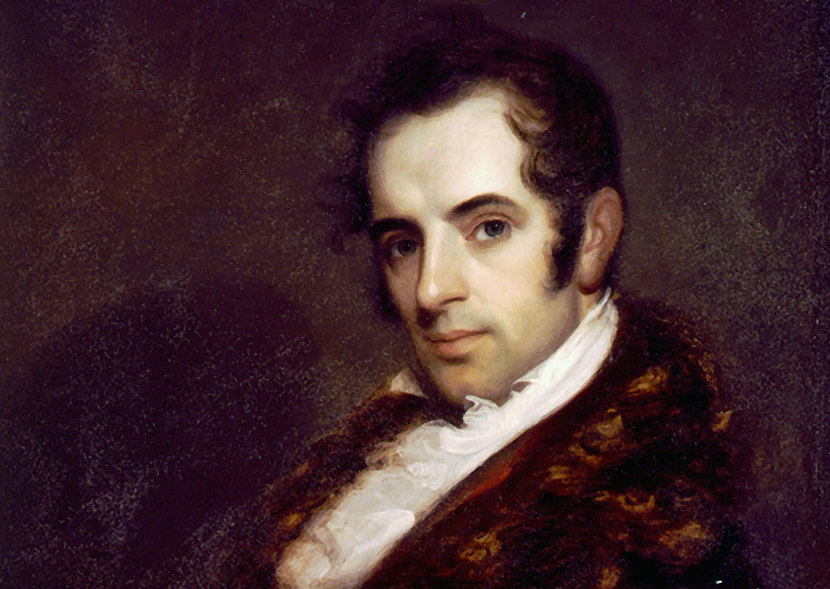 Washington Irving, the man who started it all

In a crime against Humanity, the Alhambra Palace, Granada's emblematic Moorish citadel (which illustrates this very article) had been wrongfully neglected for centuries by Spaniards, lost to time. It would take a foreigner, a romantic American writer from New York City (!), to visit it during the nineteenth century and fall in love with it to finally appreciate its well-deserved beauty and put it on the map for the remainder of the world to enjoy. Inspired by its captivating ambience, echoing bygone eras, Mr. Irving was enthralled by its magic and found a way to actually live at the palace for several months which inspired him to pen two of his most famous novellas, The Conquest of Granada and Tales of the Alhambra (the latter inspired by Scheherazade, the masterful storyteller from One Thousand and One Nights). Mr. Irving found La Alhambra Palace derelict, in a state of major disrepair, inhabited by societies' dregs and social outcasts. Soon after his novels were published, and word of mouth spread like wildfire, the Spanish Government was forced to take an active interest in the site, fencing the area off and finally carrying out works towards its rehabilitation and preservation for future generations.
Spain, and concretely Granada, owe a great debt of gratitude to this man, who single-handedly made the whole world aware of Granada's beauty, making it an instantly recognizable brand the world over. His story deserves its own movie.
—
"Dale limosna, mujer, que no hay en la vida nada, como la pena de ser, ciego en Granada". – Francisco de Icaza, Mexican poet.
Loosely translated (referring to a street beggar): 'Give him a coin woman, for there is nothing sadder in life than to be blind in Granada.'
—
Alhambra, seat of power
Majestically perched atop a hill, with commanding views over the surrounding countryside and the snowcapped mountain range of Sierra Nevada, the Alhambra (which means Red Castle in Arabic) was the seat of power of the Nasrid Dynasty and the Emirate of Granada from 1230 to 1492. The original fortress was built in the ninth century, over one thousand years ago. The palace served a dual role of projecting power (aggrandising its dynasty) and serving as their home. The castle's rich crimson colour against the dramatic drop of a magnificent white mountain ridge behind it, which turns into dark purple at dusk, lends it an ethereal look, almost otherworldly.
The Islamic religion forbids the depiction of human figures, to that end talented Moorish artists were brought from faraway lands and commissioned to work feverishly, day in and day out, decorating its vast interiors and halls with stucco stalactites, intricate tilework, latticework bearing complex Moorish motifs, and symmetrical shapes. Each window at the Alhambra was thoughtfully selected to frame an image from the landscape that lies beyond in what resembles a living painting of unmatched beauty. The artwork found within its walls is an unparalleled example of Islamic art whose know-how is lost to the sands of time.
But truly, Alhambra comes into its own through its myriad scented gardens and water features. Adjacent to the Alhambra, we find the Generalife (UNESCO World Heritage Site since 1984), which was the Nasrid Dynasty's summer palace. The Generalife's gardens and fountains are inspired by the Jannah, Islam's paradise garden that awaits the righteous in the afterlife as their final place of abode. The round fountains, that dot the palace grounds, playfully reflect the sun's rays, resembling freshly minted silver dirhams. For this culture, born and bred in the hardships of unforgiving dry deserts, water is a synonym of wealth and power. For this reason, water fountains were prominently displayed throughout the whole palace complex conveying onlookers a distinct message of power. But they also served a practical purpose, as any visitor during the hot months of July and August can attest to; vastly reducing the sweltering heat by dropping the temperature in what is a feat of Islamic engineering. Complex waterways permeate the palace grounds ensuring ambient temperature remains cool at all times. The soothing sound of water running gently through the multiple waterways and fountains, coupled with the sweetly scented gardens and birds peacefully chirping away in the green canopy overhead makes the whole place truly unique; a balm for the soul.
It should be noted that in the aftermath of the fall of the Western Roman Empire, most of medieval Europe languished in the darkness of ignorance and poverty, albeit the Muslim Emirates of Cordoba and Granada shone brightly for centuries as a beacon of human culture. These two sophisticated kingdoms attracted the most talented scholars, philosophers, poets, astronomers, mathematicians and physicians (read doctors) of the time, becoming cusps of culture.
It is often forgotten the wise Emirate overlords oversaw the peaceful coexistence – for centuries – of three major cultures which are often at odds with each other, always hanging in a precarious balance: Christian, Muslim, and Jewish.
The Nasrid motto: 'There's no victor but God'

The Alhambra was aptly added in 1984 to the UNESCO World Heritage Sites.
In an October '23 poll of the world's most beautiful castles organized by the company 'We Love Holidays', the Alhambra was voted by readers as ranking first place in Spain, and third in the world. If you want to book tickets to visit it, you should do so at least six months ahead.
Patio de los Leones, La Alhambra.
—
"Weep like a woman for a kingdom you could not defend like a man." – Aisha al-Hurra
Aisha bint Muhammad ibn al-Ahmar or Aixa al-Hurra (the honoured), a living descendant of the Prophet Muhammad, was the feisty, always the political player with a character of steel, determined mother of Boabdil, the last Emir of Granada. She earned her place in history for having rebuked her son for the loss of Granada in 1492.
—
Albayzin, where time stood still

Nestled at the foot of the royal palace, well beyond the protection of its sturdy walls, at the skirts of its mountain, lies the Albaicin; a small neighbourhood of well-preserved stone houses (dating back five centuries), amid cobbled streets, crisscrossed by narrow alleyways. The whole place is littered with souvenir shops which sell exotic wares from another time. The floors are covered by lush Oriental rugs bearing intricate symmetrical motifs, and vintage Moorish lamps, with embedded coloured crystals, hang from tall ceilings, illuminating each room, casting playful shadows on the walls which bring back to life figures from stories lost to time. The strong smell of tanned leather and sweet jasmine burning in large incense jars gently drifts through the air of its narrow streets taking visitors back in time.
The purpose of cramped streets is dual; they serve as defence (as easier to defend, think of the Strait of Thermopylae) but also help to create drafts which help to bring down the temperature during the hot summer months.
The Albayzin was home to the Jews, who were wrongfully expelled from Spain by the Catholic Kings in 1492, and all their properties confiscated in an ill-advised faux pas (saddled with debt, they did this to avoid repaying the large debts racked up on pursuing endless warfare). It is said the families descended from the original Sephardic Jews carefully treasured their original Granada housekeys, throughout the centuries, as family heirlooms passing them down from one generation to the next, waiting for the day they would be able to return safely to their rightful homes. These descendants, five centuries on, on visiting Granada, were shocked to find that when they inserted their keys on centuries-old locks, they worked! These keys symbolize the doorway to a sleeping Neshama.
The Albayzin was added in 1994 to the UNESCO World Heritage Sites.
Sacromonte, where flamenco's spirit lives on
Due east from the Albayzin, on a small hilltop opposite the famed Alhambra, you'll find the renowned Sacromonte district, home to the Roma community. Burrowed all alongside the mountain hillside you will find quaint house caves that do a marvellous job at keeping cool during the long summer season. During summertime, flamenco and guitar concerts abound. But this is not your vanilla run-of-the-mill tourist flamenco show, oh no, this is the real deal! Granada has a longstanding tradition of flamenco which loses its roots in time. The flamenco that burns here is raw, passionate, pulling at your very soul. Viewing a fiery flamenco show inside one of its reconditioned house caves is truly a sight to behold. Before you know it, night will turn into dawn. You can't say you've lived if you haven't experienced one of these flaming shows.
Trailblazing girl in motion!
Sierra Nevada, where the action lies!

Albeit man cannot live of culture alone. Sierra Nevada is a sky station only an hour's drive away from Granada's city centre. For ski lovers and adrenaline junkies, this is the place to be. It's home to the highest mountain in all of Spain, the ever-icy Mulhacen, standing tall at 3,482 metres. There is a great selection of hotels, that cater to all tastes and pockets. For those with a penchant for the finer things in life, you should pay a visit to The Lodge or the Maribel hotels, right at the heart of the frozen ski slopes. Waking up in the wee hours of the morning and having breakfast at the Maribel at the crack of dawn (or dusk), with its beautiful views over an unspoiled piste, is truly a site to behold! Then being spoiled (rotten) to try on your ski gear, which has been previously warmed up overnight at the hotel's ski shop, and ski right into la piste, is simply otherworldly! Now, that's truly luxury at its best!
And then there's also the night! Sierra Nevada has a rich and diverse nightlife where party owls can unwind and enjoy some well-deserved rest in good company after braving black slopes all day long. Shrewd cookies may even consider investing in property given the (always) high demand for ski accommodation and the limited land available due to strict planning laws!
Stunning viewpoint from the Mirador de San Nicolas, Granada. Breathtaking views are guaranteed at dawn and dusk. Rumour has it it's a great place to propose, no lad has ever been turned down at this spot! Bruno Mars's 'Marry You', whilst optional, is highly recommended.
Conclusion
Whether you lean more towards the arts, or else you'd rather fancy grabbing a snowboard and blaze the night away, Granada has you covered. Both crowds are guaranteed not to commingle.
Granada's bewitching beauty, embodied by the Alhambra, has captured the imagination of writers and poets for eons. It's witnessed the rise and fall of civilizations and dynasties, standing the test of time.
If you want your heart stolen, visit Granada.
Portrait of a young Federico García Lorca, arguably Spain's finest poet.
Verde que te quiero verde.
Verde viento. Verdes ramas.
El barco sobre la mar
y el caballo en la montaña.
Con la sombra en la cintura
ella sueña en su baranda,
verde carne, pelo verde,
con ojos de fría plata.
Verde que te quiero verde.
Bajo la luna gitana,
las cosas le están mirando
y ella no puede mirarlas.
– Federico García Lorca. Romancero Gitano, Romance Sonámbulo.
Federico del Sagrado Corazón de Jesús García Lorca (1898 – 1936). Born in Fuente Vaqueros (Granada), he was a child prodigy, exquisite Spanish poet, writer, musician, playwright, and theatre director. Outstanding member of the Generation of 27. Assassinated at a young age by Nationalist forces shortly before the outbreak of the fratricidal Spanish Civil War for his Socialist views. His body was never found, his legend grows on. Likely the finest poet in Spanish language of all time.
Other entries in this running series:
Please note the information provided in this article is of general interest only and is not to be construed or intended as substitute for professional legal advice. This article may be posted freely in websites or other social media so long as the author is duly credited. Plagiarizing, whether in whole or in part, this article without crediting the author may result in criminal prosecution. Ní neart go cur le chéile. VOV.
2.023 © Raymundo Larraín Nesbitt. All Rights Reserved.